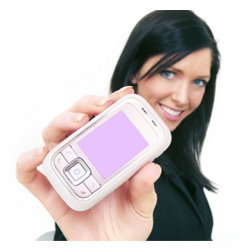 The "Movie phone"
Spice Telecom, a company from India, announced at the recently held Mobile World Congress from Barcelona, a new mobile device called the "Movie Phone", the first cell phone that integrates an optical storage device.
The 2.8 inches and 262.000 colors TFT screen offers horizontal image when playing a movie. The phone features a TV-out connector that allows users to play 576p content on their TVs. Throughout the years, mobile phone producers have tried increasing internal memory size, bigger memory cards, Flash chips and hard drives, but the Indians came up with a miniature optic unit and the result can be impressive. The optic disc is only 32 mm in diameter, is protected by a slim case and can hold up to two and a half hours of 576p movie thanks to a derived H.264 video codec and to the AAC audio format.
This solution can be tricky as Sony found out when launching movies in Universal Media Disc (UMD) format for the PSP. Although having important support from the studios and the success the PSP reported, UMD discs never really became a success.
The producing company intends to launch its product on the Indian market first because of the support they have from Indian movie producers, offering at least 40 movie titles for the launch. Also, another 1000 titles are expected after other contracts with regional movie producers have been signed. Each disc will come at a price of five US dollars and, depending on the success the "Movie phone" will have, the sales could be expanded to other markets interested in the product.
With the first step taken by the Indian producers, it is likely that more companies are going to adopt the optic storage solutions for their devices and bring their products on the western market, supported by Hollywood movie producers.