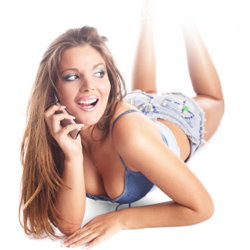 One of a Kind Romantic Gift
Want to give the one you adore a really fun and unusual holiday gift? It all starts with upgrading their phone.
Plan a fun night for the two of you after the festivities are over and put together a bag to be opened when the two of you can be alone after the party guests have gone home.
First of all, get a better phone for your gift recipient. They may like a flip phone or a slide model, with or without a camera, it doesn't matter you can find a phone with all the bells and whistles and if you want to get a really good deal, forgo the high prices of your wireless carrier and go for an unlocked phone.
An unlocked phone is just a cell phone that will work on any network. It's just a matter of inserting the SIM card from the current phone into the new phone and it will work beautifully. Then make it a little more special and download a special ringtone. It could be the song that was playing when you first met, the song that you consider to be "your song" as a couple or just a current fave that you both have. From the most obscure to the most popular songs, you can find it as a ring tone and load it onto the phone before you give it.
Include a couple of scented candles and maybe a little cell phone bling for a fun touch. A cell phone charm or cover will make a great accessory. For added smiles, as you hand the bag to your love, slyly dial the number on the phone you're giving them so the song you're set up will play.
After the craziness of the holidays winds down, give the one you love a gift they will appreciate and use all throughout the year and when you give it to them, make the occasion as special as they are.