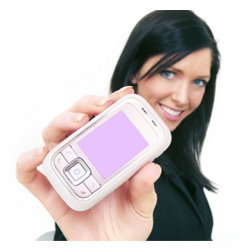 Ever Thought of a Cell Phone as a Romantic Gift?
If you've been wracking your brain for just the perfect gift to give that special person to celebrate a birthday, anniversary or "just because"; consider the gift of personalized cell phone.
You will have a few choices when you choose to give a cell phone as a gift. You can give a cell phone with pay as you go service, monthly service or you can get one of the newer options which is an "unlocked" cell phone. Unlocked cell phones are not widely known yet, however they are simply cell phones that can work on any service because they accept different SIM cards. The SIM card is the small card that is inserted into the phone and "tells" the phone which of the wireless networks to connect to in order to send and receive phone calls as well as other information.
Once you choose which type of phone you want to give as a gift - now comes the fun part - making it gift worthy! First of all, if you two have a song that you call "yours" - download it as the ringtone for the phone. If you have songs that denote special times in your relationship - download a couple of those as well.
If the phone has the capability to display pictures, take a photo of yourself and send it to the phone either from your own cell phone or via email - most phones can accept this type of message. Download the photo and make it the wallpaper of the cell phone. If you have a favorite spot to get cozy, the restaurant you first told your boyfriend or girlfriend that you loved them or other special place - use a photo of that as a special reminder of yes, you really do remember everything.
Put this in a little paper gift bag and stuff it with tissue paper and add a little cell phone bling such as a cell phone charm, ear piece or other accessory to make your gift even more thoughtful and fun.