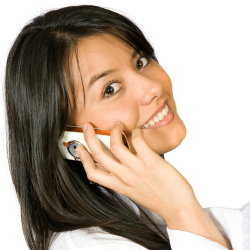 Ringback tones
The mobile communication industry is continuously changing. More and more capable devices are being launched along with complicated applications and features that get better and better. But some of you may say that there is one thing that hasn't changed at all since its appearance, the "riiiiing" that we hear every time we call someone.
Think again, because you are wrong. You've probably never heard of ringback tones. Now you can personalize your mobile phone with a different tone that the person who is calling hears in the speaker until you answer. You have the possibility of choosing from various songs, jokes or creating your own message for the person that is calling. You can even configure a tone to be used for each group of contacts, exactly like you do this with regular ringtones. For example, you can choose a love song for your beloved one or something funny for your friends. Customization hits a maximum level when doing this, so you can ensure to have a unique greeting message for the persons calling you. On top of this, they can be heard by everyone, no matter if they are calling from a mobile phone, a stationary one or if the device is a new one or an old one.
On the other side, setting a ringback tone depends on the network operator, some of them not supporting this new service. Also, if the operator does support it, activating the service requires a tax and a monthly fee. Despite the fact that they are already a success in some countries, it is possible they don't have the same effect everywhere in the world, mostly because a lot of people consider ringback tones totally useless and a way of making more money for the operators.