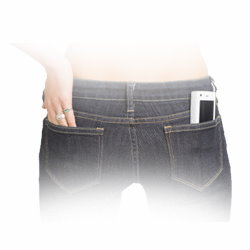 Hot Holiday Gift - An Unlocked Cell Phone!
Want to get someone a great gift this holiday season and you want it to be something they will both appreciate and use? Make it an unlocked cell phone!
You've probably seen the term "unlocked phone" around and most unlocked phones are a really good deal. You've probably seen the Subscriber Identification Module or SIM card in your phone at one time or another and a locked phone will only recognize that SIM card from a specific carrier. The "lock" is what keeps the phone only communicating to one specific carrier for which the SIM card was made. The beauty of an unlocked phone is that it will recognize any SIM card from any carrier. This means if you want to get someone a really terrific cell phone and upgrade from what they currently have - it can allow someone to have a much better cell phone with that heft "direct from the carrier" price tag. The major brands are all available including Motorola unlocked phones, LG, Samsung, Nokia and more.
If you decide to get someone an unlocked cell phone as a holiday gift, along with their new cell phone, get them some mobile ring tone credits and maybe a little cell phone "bling" to let them add accessories to their cell phones like charms or unique cell phone covers. Another great gift you can toss in their stocking is a gift certificate for a few mobile ring tones.
An unlocked cell phone can make a great gift for that hard to buy for person on your holiday list this gift-giving season.